Oleanders and Plumbago Linocut
ROSALIND FORSTER's watercolours and linocuts reflect the artist's passion for flowers, dramatic light and shadow. Sometimes the image comes from a chance encounter, as seen in the highly skilled linocuts of sunlit doorways, but more often her subject matter is careful arrangements of flowers and favourite objects such as lace cloths and jugs.
Rosalind Forster's first one person show was in Sydney, Australia in 1983. Since then she has exhibited regularly, mainly in England and Greece, where she had her first one person show Spring Flowers and Sunlit Doorways with the Jill Yakas Gallery in May 2003. Prior to that she participated in a two person show at the gallery in 1993. She also exhibited at British Artists in Greece in 1995 and in A British Gallery in Greece in 1998, both shows organised by Jill Yakas as part of Britain in Greece and Britain and Greece, two prestigious Festivals organised by the British Embassy and British Council, Athens.

A graduate of Manchester College of Art, Rosalind Forster - a keen gardener - now divides her time between England and Greece.Her work is in private and public collections worldwide. Her linocuts, drawings and watercolours are on the cruise ships Oriana and Minerva following commissions by P & O Lines, and Swan Hellenic. Rosalind also undertakes private commissions.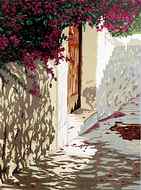 Doorway III, Spetses Linocut